What happens in party bus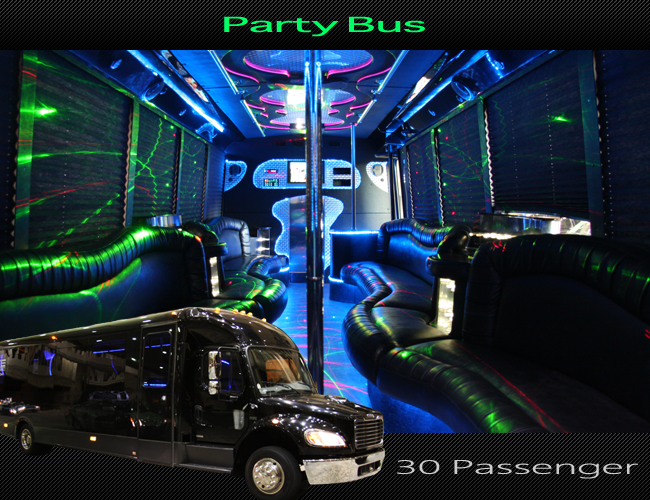 What happens in Vegas stays in Vegas. What happens in the party bus stays in the party bus. Anything goes in this "club like" atmosphere and it is all about the fun and experience.
What is a party bus?
According to Wikipedia link, a party bus is a large motor vehicle usually derived from a conventional bus or coach.
They are modified and designed to carry 10 or more people for recreational purposes.  The celebrations vary from anniversaries, weddings, bachelor, bachelorette parties, to nightclubs tour and special events.
A party bus is versatile and popular. They serve a good purpose. They keep people from being out there drinking and driving.
How big is a party bus?
The seats are between 20 to 50 passengers. Not only is the seating spacious and comfortable, but you also have the advantage of greater ceiling height witch is great for walking and dancing.
Who operates them?
The hosting company called "YourLasVegasGuide.com" is one of them. Their hosts serve free drinks for partygoers. There is a wide choice for everyone to drink from champagne to beer, whiskey, vodka, tequila, water, sodas, juices etc..
They are taking you on a nightclub/bar tour with a stop to the Welcome to Las Vegas Sign for free pictures.
They are customized
Inside, you have a big screen LCD TV playing music videos with a premium sound system, party stripper poles and fiber-optic laser lighting.
Safety rules
In many states, smoking on a party bus is illegal. Lit cigarettes or cigars can cause burns during traffic incidents. Cigarettes could damage your interiors and, in worst-case scenarios start fires.
The excitement for a dance floor in a moving vehicle is great but you must remain carefull not to fall. Same before stepping out. Because of the steps to go down, it is necessary to be careful not to fall.
Conclusion
Being in a party bus is all about the experience. It is supposed to make your old memories jealous.
www.YourLasVegasGuide.com
Toll free 1-877-702-9584